Planning ahead
With the announcement that three of the Hour 7 team would be representing Great Britain and Northern Ireland at the 2022 World 100k Championships in Germany in August, we delved into how Hour7 athletes choose their goals for races ahead.

As with anything it's easy to focus on the here and now, this week, your next session or what you want to do at the weekend, but an important part of achieving your potential is setting realistic goals and planning appropriately to achieve them.

Top down or bottom up?
When targeting race fitness athletes often look at it in one of two ways. You have the end point, which is the race, and the starting point, which is current fitness. Somehow we want them to meet, ideally on race day.

Quite commonly athletes think about how fit they are now, where they want to be, and start working towards that end point.
Each session builds on your current level and aims to bring it closer to the level you want to see on race day. You signpost where you want to be in a few weeks' time, maybe some B goal races in the build-up and key sessions to complete.

Another approach is to work back from the goal race, look at the key demands of that event, and build your plan backwards in time. What do you need to achieve to get to your goal (which obviously needs you to have defined your goals for the race already)?

DEFINING RACE GOALS
It makes sense to look at your goals at the start of your planning process and sometimes just getting to the big dance, like a World Champs, is as far as we think. But upon selection you then need to think about what you want to achieve on race day.

Medals and positions are often what people target, but as drivers for motivation these are what we would refer to as extrinsic motivators. There is an element involved that we cannot control: our opposition.
British 100k Champ Jo Murphy says that her "goals are based on previous performance and what I think will be a realistic improvement on my previous time."

You could have the preparation and race of your life. Perhaps your goal is the top 10. You get a huge PB and do better than you ever imagined on race day, but the same happens for 10 other athletes and you finished 11th. Should you be disappointed?
"Generally the pace I plan to run is one that I know or at least think is one I can maintain for the duration of the race. I just find running to a pace is a bit more fixed in terms of a goal to stick to".

Even Murphy accepts that planning a time which you feel is achievable can be impacted by environmental conditions or unexpected life stresses in your build-up. For example, in Germany in August it will be a little hotter than Scotland in April.

"It's always been at a set pace I've trained as I don't find effort level easy to gauge," says the Scot, "but I may have to adapt this if heat is a factor [at the World Champs] and dial it back."

Now an intrinsic goal, one focused solely on yourself and the process, might be to run the best race you can on the day. That 11th place, with a huge PB, suddenly fulfills your goal and you can be satisfied that you tried your best.
Put yourself halfway through the race, when you're still outside the top 20 and your uncontrollable goal of the top 10 is slipping away, but your goals of having your best day ever, or the time you estimated for the conditions, is still on target.
The same athlete, with a slight switch in mindset, could be having a totally different experience and one might actually be struggling more than the other.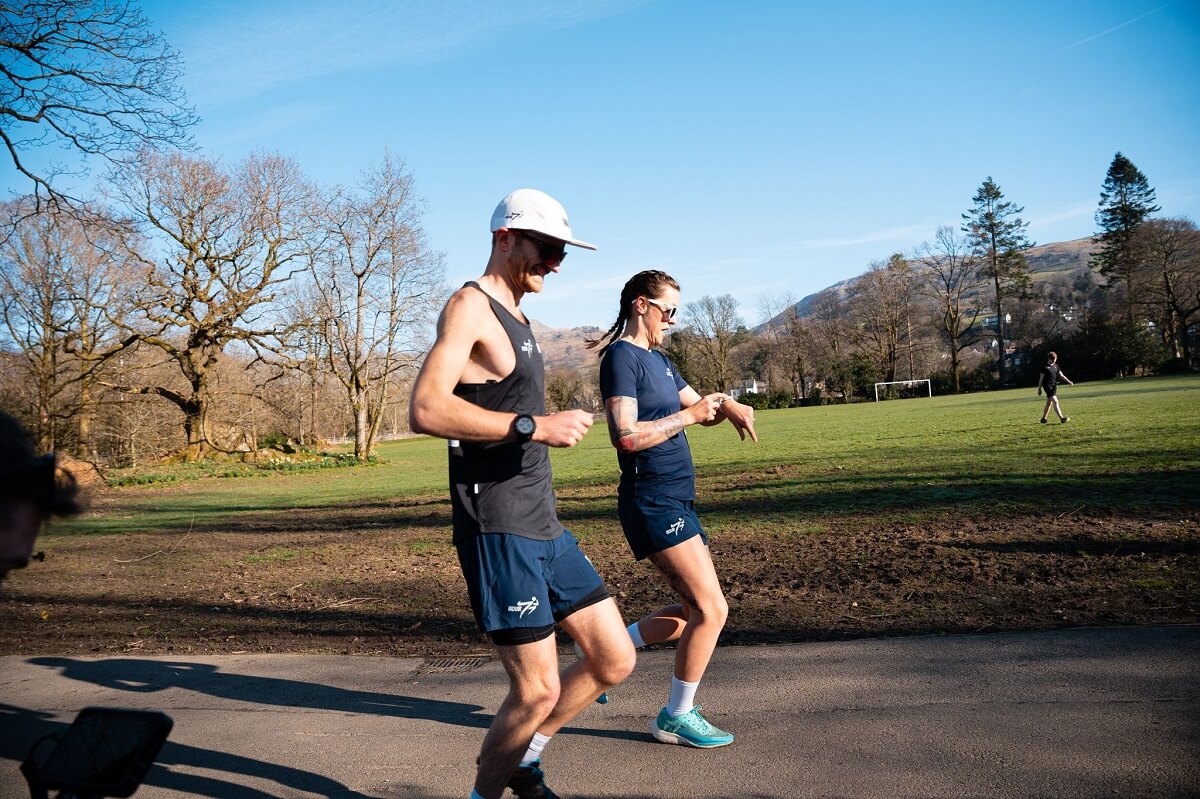 (Jo Murphy checking her watch before a race. Photo: James Vincent)
GOALS DEFINE PLANNING
Now we see why defining your goals can impact how you plan. If you are planning to run a set time and your training is geared towards that then you might start with a set "race pace" in mind.

Be it a marathon, 50 or 100k, that pace starts to feature in training. At first, if you have a lot of work to do, it might feel a little uncomfortable. As the training continues, your race pace starts to feel easier, despite the fatigue of current training (remember you have the taper to come before the big day).
"It's funny because I did a couple of shorter runs at race pace the week of the Anglo-Celtic Plate and it felt anything but comfortable to be honest," said Murphy, "but I rarely feel great on the taper."

On tough days, hilly routes or if we've set a slightly unrealistic race pace, you can actually end up pushing too hard in training to run this set pace. It can make your training harder than it should be, which can really build up over time.
Now swap in 'race effort'. If you know how hard you should be working, either from previous experience, heart rate from physiological testing, or just rate of perceived exertion (RPE), then this adapts with you each day.
Imagine a long run in your planning, one that might be a big milestone psychologically but which falls on an unexpectedly hot day. If you have only a set pace in mind then that can be an exhausting or disappointing day, or both. Have a race effort in mind, then you can adapt and still do the right training for you.
(Jo runs at her own pace. Photo: James Vincent)
FIND WHAT WORKS FOR YOU
What is clear though is that it can be very individual, especially with training. If someone who paces as well as the British and Scottish 100k champ, with a negative split over 100k, gets dialed into race pace in training, then it's a method that works.

And then it's the conditions on the day that just need to be taken into account. Perth was a fresh, cold morning, without the day getting too hot at all. It was probably exactly the same conditions for most of the training runs, so race pace and race effort were likely the same throughout training.
In ultra-running it is often most important that you are focusing on yourself, not others. Every single race there are people starting too fast. They're either going to break a world record or blow up. Which one is more likely? (Do check at this point the runner in question isn't Aleksandr Sorokin or Aly Dixon).

And even still, if that runner is going to break a world record, what can we do about it? At this point, nothing but focus on our own race.
"I never run for position, just personal time goals and I don't believe in banking time in the first half of an ultra," Murphy says with a smile. The smile we saw each lap in the second half of the ACP100k. These two simple rules are clearly a huge part of her success.

So whether it is pace or effort you're dialed into, make sure it's your own.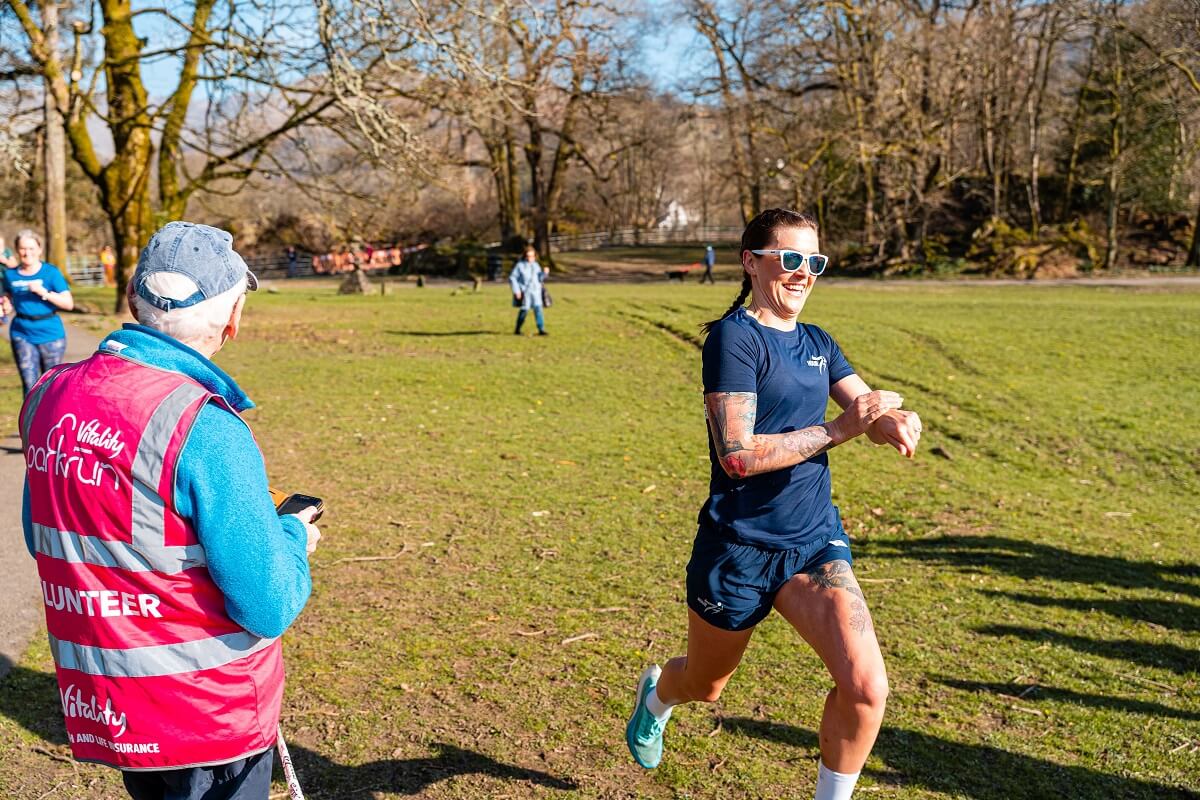 (Jo finishing a park run during her training block before the 2022 ACP. Photo: James Vincent)