RACE NAME:
CCC by UTMB
ATHLETE:
Caroline Turner
RACE DESCRIPTION:
A 100km mountain race passing through Italy, Switzerland and France, with a field of around 2,000 runners. Temperature conditions were mid 20s and sunny.
DISTANCE:
100km
RESULT:
15:15:58, 32nd female, 140th overall.
ELEVATION:
19,400 ft
TRAINING VOLUME IN BUILD-UP:
12 week block from Comrades (my last road race, before switching back to trail). Averaging 75 miles with peak week of 90 miles. 3 trips out to Chamonix within this period to reccy and train on and around the course.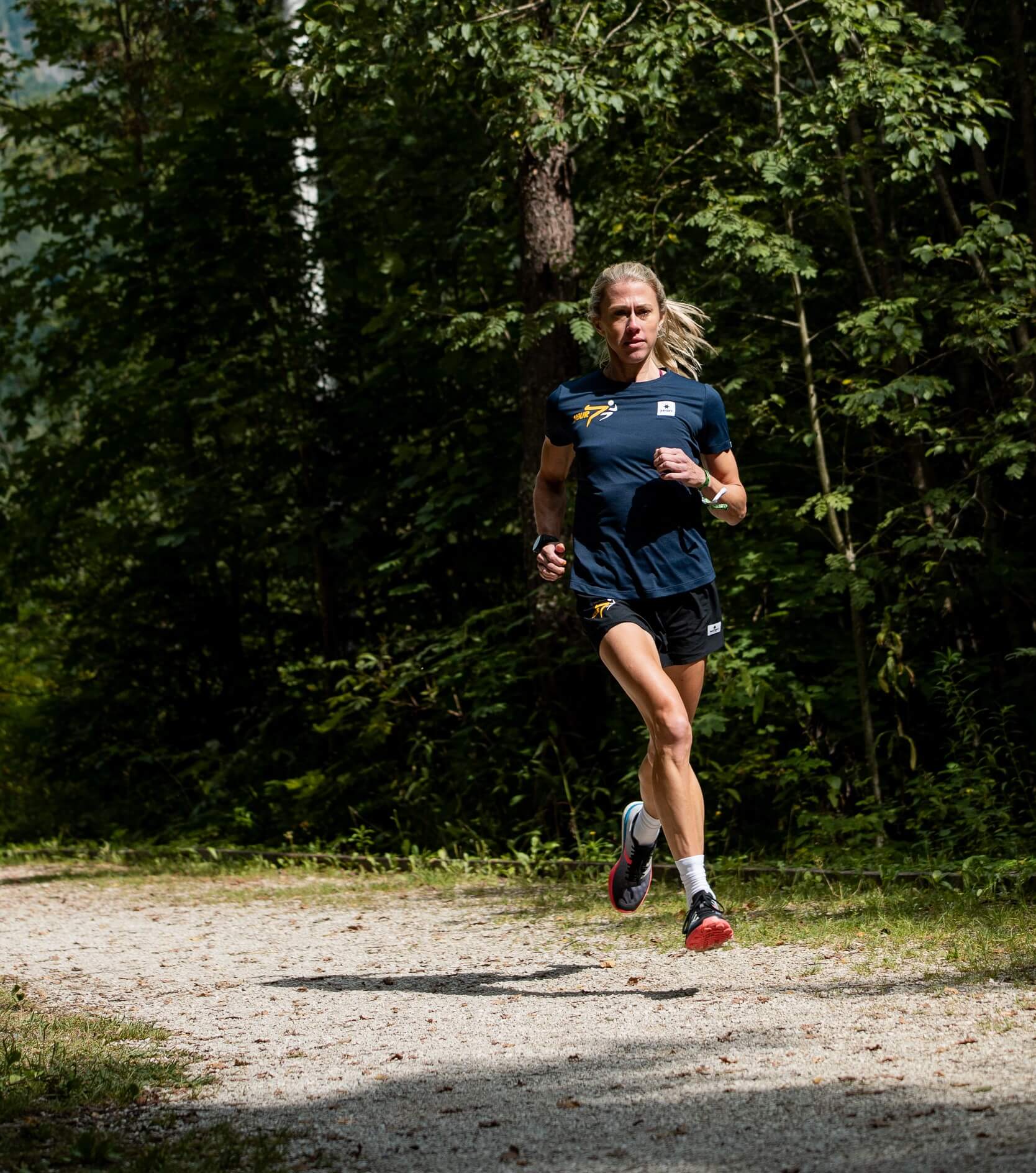 (Caroline Turner running in Chamonix. Photo: Gilly Photography)
TRAINING INTENSITY DISTRIBUTION:
I was fortunate to spend a lot of time on the trails out in Chamonix which allowed me to do a lot of race specific training. Long, steady days were key, interspersed with some speed work and hill reps when back home.
KEY SESSIONS:
Full reccy of the course over two days and lots of long easy sessions in the mountains.
RACE STRATEGY:
Go relatively easy on the first climb from Courmayeur, then pick the pace up from there.
RACE NUTRITION:
1 Beta Fuel drink mix per aid station, 3 shot blocs per 30 mins, additional 'real food' at the three aid stations I could receive assistance (porridge, ginger cake, sweets, coffee and coke). Looking to average around 90g of carbs/hr.
RACE HYDRATION:
1 litre of water, replenished at each aid station (back up option of streams and water taps on the course)
RACE SHOES:
Salomon S Lab Ultra 3
KEY ITEMS OF KIT:
My poles!
KEY LESSONS:
I was really pleased with my pacing, however I struggled to get food down in the second half. On reflection, I believe this was due to dehydration. I drank all the fluids I had, although I was coming into the aid stations gasping for coke which didn't quench my thirst. Key lesson is that I should have taken on more water due to the temperatures, which I believe would have avoided my problems getting food down.